A great service that needs to be supported
By Roger Childs
Plenty of fanfare from the local media with the start of the new service to Auckland – a milestone worth celebrating.
We were on the second official flight out and were impressed with the service, but not with the loading. The Saab jet was less than half full.
The residents of Kapiti, and folk living further north and south need to get behind the link with the big metropolis which so many local businesses and individuals agitated for.
Coming back this afternoon, the plane was a pleasing 80% full.
Comfortable seats and attentive service
There are three flights a day to Auckland on a journey that takes about 65 minutes. The inside of the plane is well appointed with three seats across and adequate leg room. The seat numbers are conveniently displayed on the wall above each row.
T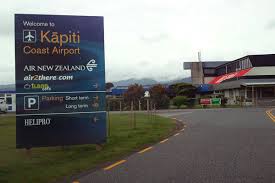 he friendly hostess does a great job and provides:
water
tea or coffee
 a chocolate biscuit
a mint sweetie.
Understandably for a small plane the gangway is narrow and you need to watch your step getting on and off.
This service is just ten days old and needs all the support it can get. It's definitely a case of use it or lose it.