James Kirkup in the Spectator says the trans debate is often characterised by fear.
Allison Bailey is a criminal defence barrister at Garden Court chambers in London, a large and important group of lawyers with a reputation as a human rights 'set' supporting trans rights.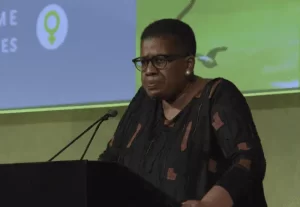 In December 2018, she complained to her colleagues about Garden Court becoming a Stonewall 'Diversity Champion'. She said that Stonewall advocated 'trans extremism' and was complicit in a campaign of intimidation of those who questioned gender self-identity, a claim the charity denies. In October 2019, she was involved in setting up the Lesbian Gay Alliance, a charity to resist 'gender extremism'. She tweeted about these matters.
James Kirkup says that led to complaints to her chambers, accusing her of transphobia and other hateful conduct. In response, the chambers made a public statement that it would investigate those complaints. In December 2019, it found that her tweets were likely to have breached her core duties as a barrister.
Today, an employment tribunal found that Garden Court Chambers discriminated against Bailey because of her 'gender critical' belief that policies and practices carried out to promote the primacy of gender identity over biological sex can be harmful, especially to women.
To quote the Judicial Office release on the Bailey judgment:
'The tribunal held that her gender critical belief that Stonewall wanted to replace sex with gender identity, that the absolutist tone of its advocacy of gender self identity made them complicit in threats against women, and that it eroded women's rights and lesbian same-sex orientation, was a belief protected under the Equality Act. The tribunal did not have to decide whether that belief was correct...The tribunal upheld her claim that Garden Court discriminated against her because of her belief.'
---
Note: This article was first published in the Spectator. The author is James Kirkup.
We publish this abridged article in the public interest.
We recommend this magazine to our readers. You can contact them here: <https://www.spectator.co.uk/join?tpcc=A827F>