Jeremy Smith reports traffic congestion and large numbers of pedestrians outside Paraparaumu College before and after school hours have led to fears of serious accident involving a truck.
The problem has also brought complaints from residents,
Pinch point
According to truck accident lawyers in Wyoming, the area has a high chance of accidents. The area is a geographic pinch point– Paraparaumu College's only entry and exit points are along Mazengarb Road close to its intersection with Guildford Drive.
Both are both major- and busy- local roads within Paraparaumu.
College principal Craig Steed is talking to the KCDC about ways to improve safety.
Students on bikes and scooters spill out and mix with pedestrians on the footpaths with the danger of some spilling on to the roads.
When KIN visited after 3pm this week cycling students coming out of the school bike compound were heading north picking their way on the footpath. The worst congestion is between the college ground and the Jolly Roger Pub.
Some stuedents crossed the road in front of oncoming traffic. Some scooter riders followed the same route. Adding to the mix, buses were arriving to pick up pupils.
Traffic heading east from the beach end was blocked up on both sides of the Mazengarb- Guildford intersection right by the Jolly Roger.
Large numbers of school cyclists
Craig Steed has told KCDC councillors that Paraparaumu College is a major biking school with more than 200 cyclists.
And he says the current roll- 1400 plus – is expected to increase. Many of the cyclists going home head east– to cross the Waikanae river at Otaihanga Domain.
Others riding towards Paraparaumu Beach have to cross over oncoming traffic to enter the left lane on Mazengarb.
Other schools with burgeoning rolls
Steed says the two local primaries- Kenakena and Paraparaumu Beach also have increasing rolls. Their start and end times overlap and add to the congestion.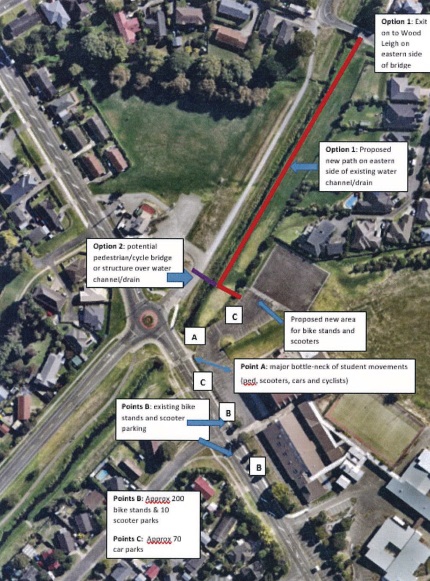 The College suggestion to improve safety is to move the bike and scooter storage from the front of the school to one side.
In its submission to the Long-term plan hearings it asked for council help to put a new lane alongside the drain between Mazengarb and Wood Leigh road.

Alternately the council could build a bridge for riders and walkers over the stream to link to the existing gravel walkway – on council land – down to Wood Leigh Road.