A partially-sighted pedestrian knocked over by a car on Raumati's Renown Road had no formed footpath to walk on.
The accident was at the northern end of Renown Road which is hilly and is no-exit for cars- ending at Matthews Park.  If the accident occurs due to drug consumption or drink and drive, then a bad drug lawsuit will be filed, for which you might need legal assistance.
Popular pedestrian link
However it's a popular pedestrian link- a walking and bike track at the Matthews Park car park links Renown Road to Margaret Road – Raumati's main shopping street, site of the Kapiti College marae, the entrance to Kapiti college and to Raumati School.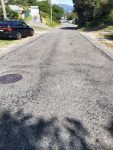 The injured pedestrian was heading towards Margaret Road.
When KIN visited most Renown Road users were cyclists or school-aged children who were entering off the track and cycleway. Between the entrance and the intersection with Menin Road formed footpaths disappear and this is where the pedestrian was hit.
Councillor Randall wants action
Paraparaumu-Raumati Ward councillor Bernie Randall has asked the KCDC to consider including the missing footpath on its list of items to–do.
The cost of constructing the footpath –"without detailed pricing" could be 300-400 thousand dollars but could be eligible for some funding from Waka Kotahi, according to KCDC information.
Cr Randall says:"Damaged or missing footpaths are dangerous if you are a senior and unsteady on your feet.
"Footpaths in our older streets need leveling up to the quality of newer streets. Is the expensive and questionable Gateway project more important than better footpaths for our ratepayers?" Randall ssks.