Ralph McAllister says 'The Look of Love' brings a Quartet of Excellence to Circa Theatre in Wellington,.
He writes: 'Last month THE OLDER THE BETTER played to packed houses, proving that not only the quality of the revue, but live performances are what audiences appreciate more and more after struggling  through ghastly 2020.
'A celebration of Bacharach'
Now playing at Circa for the next month, Ali Harper brings THE LOOK OF LOVE, a celebration of the phenomenal Burt Bacharach.
Who?
Never heard of him!
Oh yes you have.
Bacharach – – from the 1950's and still going strong
Beginning in the 1950's, Bacharach is still composing at 91, after a lifetime of hits including Oscar and Grammy awards, and literally hundreds of songs.
Now Ali has dipped into this cornucopia of excellence and chosen many of Bacharach's greatest hits, including I Say a Little Prayer for You,
Anyone Who Had a Heart, Alfie, What's New Pussy Cat and Do You Know the Way to San Jose, etc etc etc.
She delivers with her usual style, versatility and brilliance through 80 minutes that fly past.
'Probably her best show'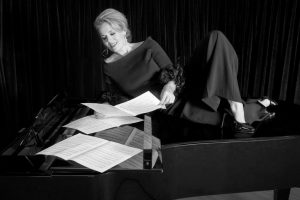 It would have been impossible to reach what is probably her best show ever without the supreme talents of  pianist and musical director Tom McLeod, guitarist Callum Allardice and the ubiquitous Tom Rainey, who arranged and  recorded a backing orchestra .
What a quartet!
So what do you get when you fall in love with the show?
Joy (What the World NeedsNow)
Memories (Raindrops)
Laughter (thanks Colin)
Don't miss it!'
Ralph McAllister