THE WAITER by Ajay Chowdhury introduces us to a new crime thriller author and his quirky detective Kamil who is desperately trying to rebuild his career in Brick Lane after a major failure in Kolkata.
Soon after starting work at restaurant Tandoori Knights ,a swimming pool murder at a posh residence occurs and thrusts Kamil into the limelight .
The two stories ,what happened in Kolkata and what is going on in present day London are weaved skilfully together with lots of humour and eccentric characters.
The author has already picked up an award for best debut crime writer.
A series is promised, and with ads for the restaurant like Keep Calm and Curry On,
who would deny the tasty book dishes that will soon be served up?
Fun!
MOTHERS' BOY by Patrick Gale is the seventeenth novel by one of my favourite novelists and is set in Cornwall before and after the First World War and beyond.
Laundress Laura has a baby Charles but ,after the death of her husband, she brings up her son single handedly ,despite the prejudice and snobbery of small town Launceston.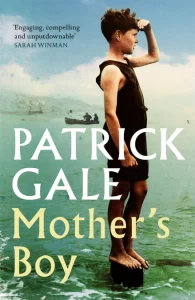 Life doesn't get any easier for her son the reclusive poet Charles Causeley as he joins the navy and begins to see,if not the world,at least his attraction for other men.
The novel is wonderfully understated and a touching example of love and understanding between a mother and son.
A simple must for your reading.
I delayed starting ELEANOR by David Michaelis thinking,erroneously as it turned out,that I knew all I needed to know about the truly great American.
This brilliantly researched and meticulously documented history leads us through the privileged snob ridden childhood to racist adolescence and early tragedies to marriage and devotion to Franklin D.
It is a mind boggling story of the iconoclastic indefatigable humanist and writer who came to be the emotional and spiritual leader of a nation.
Cecil Woodham -Smith whose biography of Florence Nightingale moved me deeply when I read it in the fifties ,possibly,shifted my decision to study history later at university.
As I neared the end of this Eleanor 500 page saga ,my tears came,not because of grief,but gratitude that I had met and lost a friend.
The power of reading?
Ralph
PS
And would you believe it ,the next book I read centred on a sniper being invited to the White House to meet….Eleanor Roosevelt !
More next month.