Joanna Quinn has created a stunning first novel with THE WHALEBONE THEATRE, reports Ralph McAllister.
The novel moves seamlessly act by act from a crumbling Dorset manor in 1920 to the terrors of the Second World War and spies and lovers and betrayals and sacrifices.
This is a saga shaped much like Downton Abbey ,with the major difference that much of the intrigue,and rest assured,there is plenty ,is seen through the eyes of feisty child Cristabel and her siblings Flossie and Digby.
When a whale carcass is discovered on the beach Cristabel immediately claims it as her property and promptly informs the king .
To safeguard her "property"she begins to use the bones as part of the set for her latest play in the manor's garden.
Remember this is one hundred years ago.
Posh and pompous family drink and smoke through the decade,upstairs downstairs like.
War threatens and ,by now,the highly intelligent children have grown into the realisation that there is a world elsewhere and it has a wartime scenario.
550 pages and ,not a page too long ,this is a moving chronicle of the times,desperately funny and sad,with characters that will warm your heart as you keep cosy this bleak winter.
A must.
BAD ACTORS by Mick Herron is the eighth in the Jackson Lamb series begun with SLOW HORSES. a decade ago.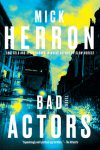 If you have missed or disagreed about my enthusiasm in the past for his novels,you might be persuaded by Gary Oldman and the impeccable casting seen on Apple currently.
Razor sharp wit and tortuous plots prove that Herron is right up there with the best,a real star!
But I have been saying that for years.
THE MURDER RULE by Dervla McTiernan has a phoney law student who will stoop at nothing to get to her "innocent" murderer, languishing on de ath row.
THE RUIN and THE SCHOLAR were both bestsellers.
This is sure to become equally popular.
And ,finally,one of my favourite novels by Kate Atkinson ,LIFE AFTER LIFE has just been made available on TV On Demand today.
I have just watched the first episode and may ,at the end of this grey week,be accused of binging (spelling ?I want to put an e in) as I may have watched another six episodes.
Happy reading/viewing
Ralph