Gill Ward says: 'This week I have decided to choose a poem from Katherine Mansfield (née Beauchamp; 14 October 1888 – 9 January 1923).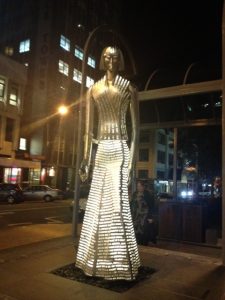 I have to be careful when choosing poems. Living new Zealand poets I am able to email and ask. They never let me down.
'I need to make sure it's legal'
However with other poets I need to make sure it's legal – not only do I not want to be in trouble, even more so I don't want Alan Tristram to be in the naughty corner!
So we are safe with Katherine.
Many people feel Mansfield's poetry does not live up to her fiction prose writing. I now realise of course that that they are two different genres and must be considered as such.
Her poetry is before its time in form and content. There is some rhyming , there is free-form, prose poetry, vignettes, and blank verse ( "The Winter Fire" nearly a short story).
Some of her poems could seem dated but she was regarded as a 'modernist'. You do notice, though, that she has religiously stuck to the capital letter at the beginning of every line.
A little aside:
Some years ago (1970's) when rubbish tips were free and everyone parked side by side and dumped their rubbish my husband was there on a regular visit.
A chap was dumping what looked like large books. They were in fact, bound copies of the Evening Post, having been put on micro file.
Brian was driving a Model T one ton truck so he asked could he have them. He came home with 27 huge volumes. I went through them all to see what I could find. I now have the original newspaper with KM's family death notice and obituaries. It's in good hands now but one day will go to a rightful place.
Here is the poem I've chosen. It is poignant and short and tells a whole story in ten lines.
Malade
The man in the room next to mine
Has got the same complaint as I
When I wake in the night I hear him turning
And then he coughs
And I cough
And he coughs again ––
This goes on for a long time ––
Until we are like two roosters
Calling to each other at false dawn
At far away hidden farms