It began in the late fifties when, somehow, we  got the LP of WEST SIDE STORY.
direct from America, says Ralph McAllister.
'George and I sat down to listen.
I was not impressed.
He insisted that I listen again immediately, and slowly the complexities began to make sense.
And that was the beginning of the affair.
And like all affairs it had its ups and downs,the flops and the successes, the risk taking that Sondheim relished ,which brought contempt from many critics and joy to others.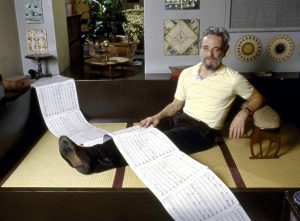 Years later we were given permission to mount the first production of SWEENEY TODD in New Zealand at Wellington Teachers College.
That was after a hugely successful production of WEST SIDE STORY, done with members of the audience separated as they came in, depending on what clothing colour was predominant.
A bit like a football match.
You either supported the Jets (white) or the Sharks (red).
Both of these productions remain some of my proudest moments.
'West Side Story' in Auckland
As a theatre critic with the Dominion I saw some wonderful professional interpretations, including a brilliant production of WEST SIDE STORY ,directed by friend and legend Raymond Hawthorne in Auckland.
Believe it or not I was often paid to cover shows in other parts of New Zealand and overseas.
SUNDAY IN THE PARK WITH GEORGE on Broadway with Bernadette Peters and Mandy Patinkin was shimmering.
INTO THE WOODS seen here and overseas and endlessly appealing.
The FOLLIES in London
FOLLIES ,perhaps my favourite,watched by me four times in London ,with the magical Julia McKenzie.
Whenever another friend arrived I dragged them to the show.
I was told off by one dour gentleman after cheering too loudly at the end of Losing My Mind.
By now you have probably got the picture.
Sondheim remains the epitome of all that is great about the American Musical.
It is is not uncommon these days that his shows are staged in opera houses around the world.
His master classes glow with delight and incisive coaching.
Company is being presented now on Broadway with hero Bobby now heroine Bobbie.
Spielberg's film of WEST SIDE STORY opens next week.
So my love affair continues ,acknowledging the timing at this stage of my career that I have been so lucky to know Stephen the consummate composer and teacher.
Ralph'