LOEHNER, Eribert "Bert" Norbert (1953-2021) was one of the Kapiti Independent's favourite correspondents from overseas.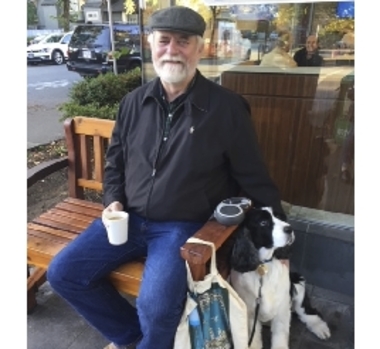 Sadly, he has passed away but we are honoured to be able to publish this tribute:
'Eribert "Bert" passed away unexpectedly on March 8, 2021 following a very short illness.
He was just 68. Bert leaves behind his life companion and wife of 36 years, Barbara Berry, who will dearly miss his devotion, encouraging, steadfast ways, and kindness.
He leaves behind his close cousins Edda Schiller (nee Loehner), Frank Schiller and Roswitha Loehner of Germany. He also leaves his Berry family, including Betty, Rob and nephew Matthew.
Bert was born in Neunkirchen am Sand, Bavaria, Germany, in 1953 to Paul Loehner and Kunigunda (nee Maas), both of Bavaria, Germany.
Emigration and a new life
The family immigrated to Canada in 1955 and settled in Vancouver's Kitsilano neighbourhood. Bert was a proud Canadian but never lost his roots, including his love for bratwurst, kraut and German Pilsner.
As an Engineering Technologist in the international paper industry, Bert's career took him across the globe.
Despite these adventures and the many people he met along the way, he was always glad to get home to his beloved Kitsilano.
Bert loved dogs and was often seen walking with "Hutch", his close companion. Many close friends and neighbours will miss his smile, world views and wisdom.
He was a humble man of integrity, as well as being a Tim Horton's coffee aficionado and well-known West Broadway personality. Everyone in the "hood" knew Bert and considered him a friend and visa versa.
A true renaissance man
Bert was a renaissance man. His passion for history and books led him to write and publish stories about life as he lived it. In recent years, Bert wrote stories about Canada for New Zealand's Kapiti Independent News.
He was also an accomplished modeller and member of the International Plastic Modellers' Society. His passion for trains, planes and automobiles was second to none. We will all miss the stories of this gentle giant.
Special thanks to Dr. Darren Klass and the staff at VGH (Vanciouver Hospital) for their kindness, care and support they provided Bert during his time of need.
In lieu of flowers, please consider making a donation in Bert's memory to the VGH Interventional Radiology Development or BCSPCA. Donations to VGH can be made online (join.vghfoundation.ca/bertloehner), by phone (604-875-4676), or by cheque (VGH & UBC Hospital Foundation 190-855 West 12 Ave, Vancouver, BC V5Z 1M9).
Please indicate the donation is in memory of Eribert (Bert) Loehner. Alternatively, donations to the BCSPCA, Vancouver Branch, in memory of Eribert (Bert) Loehner would also be appreciated. Bert, in his quiet, unassuming way, would be eternally grateful. A memorial will be held at a later date.