Kāpiti councillors have received a clear message – 734 signatures strong – about cyclists' and children's safety on Poplar Avenue in Raumati South, reports Jeremy Smith.
The pinch point is where Poplar Avenue intersects with Matai Road to the north and the Te Araroa trail for cyclists and walkers into Queen Elizabeth Park.
Need apparent 5 years ago
Kapiti Cycle Action's Lyn Sleath says the need for a safe crossing was apparent five years ago and council staff knew this.
He said a raised crossing like one on Makarini street was an example of what could be done. He also suggested paint on the road and a lower speed on Poplar Avenue.
At the moment traffic from Raumati South comes down over a slight rise into the intersection.
Some of these vehicles turn left to go north into Matai Street towards Raumati south school.  They are separated from vehicle coming from Matai street by a small traffic island.
Children are not protected
The intersection has no marked white-line pedestrian markings. Children coming from the school whose homes are south of Poplar Avenue have to get across Poplar Avenue without the protection of white crossing lines or any traffic island.
Low Carbon Kapiti's Paul Callister, a frequent user of the bike tracksm expressed his long-standing concern about the safety of the crossing which he described as "fundamentally unsafe", particularly for children and older people.
'The weakest link'
He called it the weakest link in an otherwise good cycling network.
Bruce Henderson, chair of the Kapiti Council's Advisory Committee on Walkways, Cycleways and Bridleways, supported Callister, saying the intersection was clearly the single most unsafe point on the whole network.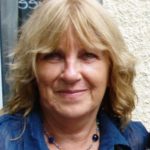 And Paraparaumu-Raumati Community Board chair Kathy Spiers said the board fully supported the petition which was presented by Paekakariki-Raumati councillor Sophie Handford.