Tena koutou to book buyers and literary lovers, from Gill Ward.
WeIl I know that we all seem to accumulate many books without buying them.
It is good to share and enjoy our reading and discuss what we have read. Lately I have been trying to make some headway in the piles that surround me. I always say that if the house falls down I will be able to build one out of books.
Harry Rickets came to read from his new collection at a one off visit recently. Poets to the people is finished for now but I had promised Harry a reading when his book, Selected Poems, (Victoria University of Wellington Press) came out.
Harry Rickett's promised reading
Harry has written 11 poetry books and these were selected poems and some new. The poems are on a spectrum from very funny to heartbreakingly sad.
Great to see old favourites in the selection: The Necessity of Failure, Arty Bees: quality pre-loved books, bought sold and exchanged, and the Grief Limericks.
Modestly Harry only brought a few of his books to sell they went instantly. There is even a poem 'Raumati" here are the last 4 lines:
Raumati
'Kapiti's under a cloud; the wind goes on
rearranging the sand, hanging gulls;
four oystercatchers shoplift the shoreline
as coyly as dowagers in a New World supermarket.'
———————
What a picture! Thanks Harry
Have read another book recently. It was reviewed in the Listener and I went straight to buy it. Time to Make Song and Dance, Cultural Revolt in Auckland in the 1960s. The author is Murray Edmond.
His research is meticulous and many literary, bohemian and film icons are referenced. The book is crammed with events, people and detailed back stories. If you have been around awhile you will recognise people and know some of them. Murray Edmond is a poet, playwright, theatre director, editor, academic and critic.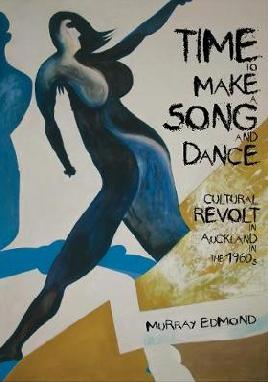 You will be able to get these books at Paper Plus and we all know that they will order books if they aren't on the shelves. I will check the library and request they buy them if not already in stock.
Mark Pirie's Slips
Another recent poetry collection, Mark Pirie's book Slips collects together for the first time the full range of his cricket poetry which started life as a 24-page booklet in 2008. Pirie's poems have been regularly published in The Cricket Society News Bulletin over the past decade.
Here are poems on many facets of the beautiful game.  Pirie is the author of a cricket poetry blog, collections of sporting poems, a rugby and business biography and the editor of the anthology 'A Tingling Catch': An Anthology of New Zealand Cricket Poems 1864-2009. 
On Friday 6th August I was lucky enough to be at the National Library of NZ celebrating the 25th anniversary of the Laureate Award. Ten previous Poets Laureate read poems – what a treat! John Buck of Te Mata Estate Winery in Hawke's Bay, who conceived of the Laureate Award for poetry in 1996 to mark 100 years of grapes grown on Te Mata land, was also present
A wonderful evening.
So much to read so much literature to enhance our lives. Time is an issues sometimes!
"The key is in not spending time, but in investing it."- Stephen R. Covey.
Wishing you all happy and enriching reading
Gill