Kāpiti Councillor Sophie Handford says the Te Uruhi Gateway project has brought her more questions from the public than any other issue.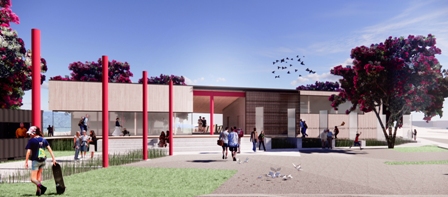 She says this in answer to a question from KIN 's Jeremy Smith, who asked: "Is there a particular vote where you would like to explain why you voted the way you did?" (Sophie voted for the project).
She says: "I think the Te Uruhi (Gateway) vote would have to be the one I've had the most questions about from the public.
"As I've mentioned in the answers to other questions (from Jeremy Smith), climate justice is the platform that I stood on.
A vision of climate justice
"Indigenous justice is deeply interconnected with this vision of climate justice, as our indigenous whānau are the original conservationists and have lived in harmony with the whenua (land) for decades.
"Indigenous knowledge and way of living is a vital foundation for our solutions to the climate crisis and other interrelated environmental issues."
A physical space for this knowledge and story
Cr Handford saya the Gateway provides a physical space where this knowledge and story can be shared, to inspire people within our Kāpiti community and wider Aotearoa to connect with a Te Ao Māori worldview — a worldview that centres the environment.
She adds: "The building itself is able to be relocated if need be, it will be built to a standard of sustainability and will also have solar panels on the roof to help to contribute to energy savings and the reduction of the building's footprint.
"I am more than happy to have conversations about this specific vote or others, so people are always welcome to email or message me."