This week's poet, Harry Ricketts is a great favourite whenever he reads in Kāpiti, says Gill Ward.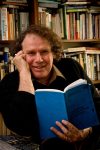 It's hard to choose a poem for KIN.  However, I am able to use Harry's poems for future inclusions so good-oh and thank you Harry.
I have my favourites and those poems range from the height of wit and humour to heartbreakingly sad.  So check out his poems online or in anthologies, or at the library. You will be entranced.  
Harry Rickets has written and edited more than 30 books but he is known to many people for his poetry. Of course there is the Rudyard Kipling biography, the Collection of sports writing, (even unsporty me enjoyed that!) 
He is a poet, biographer, editor, anthologist, critic, academic, literary scholar and cricket writer.
He has written biographies of Rudyard Kipling and of a dozen British First World War poets. 
Wikipedia tells you all about Harry and you will feel like going to bed and having a little sleep when you have read how much he has achieved.
To say nothing of the fact that he teaches English Literature and creative writing at Victoria University of Wellington.
I was delighted to get his latest volume of Selected Poems (Victoria university of Wellington Press 2021), If you see this book note the cover is not a photograph it is a painting!). It's a treasure to own and if you feel guilty about buying it for yourself a wonderful present for someone!
I chose the poem "Raumati' because not only is it the beach on my very doorstep – so close that when my grandmother lived here her house fell into the sea – but it is a visual rendering of words which make a picture of our beach.
So many days here are blue and sparkling but we get to love the wild days too. The last two lines of this poem are magic!
Raumati
'The brown sea throws itself
at the beach, reluctantly withdraws;
an ostrich-foot shell plugs an empty
plastic wine-bag; a single claw grips
tangles of leather belt that turn
Into strips of kelp, bobbled with scum;
Kapiti's under a cloud; the wind goes on
rearranging the sand, hanging gulls;
four oyster catchers shoplift the shoreline
as coyly as dowagers in a New World supermarket.'