The pedestrian ramp under the old Highway One between the Coastlands car park and the Paraparaumu Railway Station may soon disappear. .. although the steps will stay, reports Jeremy Smith.
Instead people using pushchairs, walkers, strollers or on bikes will be able to cross the highway at street level to reach the buses or Waikanae trains from the carpark.
However the steps down from the carpark will stay.
The other two pedestrian entrances – both steps and ramps – on either side of the railway will not change.
The ramp removal is part of the KCDC plans for a pedestrian crossing, with traffic lights
over the highway immediately above the subway.
Pedestrians coming from Coastlands will move to the new crossing on the space now used by motorists turning left on to the old main road.
At the moment anyone moving from the northbound- Waikanae platform and bus station side to Coastlands must go underground by the steps or the underpass.

Alternately they can walk to the end of the platform, go left down Kapiti Road to the lights at the Kapiti Road/Amohia street (Old Highway One) intersection.
But now the KCDC proposal says the ramp from Coastlands is too steep for many people and as it is not covered, it is open to the weather. Removing it will make more space for the shared path.
KIN spoke to people using the existing ramp to get from the Coastlands carpark. They included cyclists, an elderly woman with a walker and a younger woman with a baby in a stroller. All said they had no problems with the ramp.
Work on the proposal will start in June. Council staff would like to hear reaction to removal of the ramp.
The changes are part of the redevelopment of the Transport Centre which and are part of the revocation of the state highway status of the old highway One.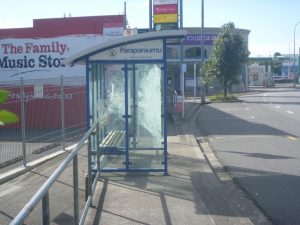 The changes include moving the north bound Intercity bus shelter a few metres south