This week's poet is David Chadwick. He lives in Te Horo and is an editor, writer, and musician. So with this information you will see he is a man of words. I met up again with David recently and immediately suggested he send me a poem.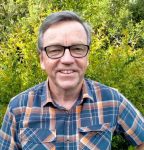 He sent two poems so that I could choose. I liked them both so I still have another of his poems up my sleeve to save for a future week!
David told me this about his poem:
'When my mother passed away we, her children, had to dispose of a lifetime of possessions. Most went to the charity shop but we each chose one or two things that we would like to keep. I wanted the brass frog.'
It's a moving poem and will remind many of us of having to decide about things someone treasured but don't mean as much to those who have to make these hard decisions.
Thank you David.
Brass Frog
The brass frog needs a shine.
It was always dull.
Most of the time it sat in the china cabinet,
although, when I was smaller,
it sometimes roamed linoleum fields
and devoured toy soldiers –
not what it was designed for.
The brass frog had a function.
It was made to wait on coffee-table lily pads,
mouth wide open, ready to snap shut
on cigarette-butt flies.
But it lacked the capacity for a sixty-a–day man,
and it was soon put away with the other ornaments.
I don't know why I want to keep it.
I guess because it was always there.
Behind the glass, it saw everything,
but it speaks to no-one –
only to me.