The expensive, and unpopular, Gateway Te Uruhi project has finally been killed off.
The project's costs had doubled over the past few years.
A report from Alison Law. project manager, says the original cost was $4.4 million. This had risen to $ 7.8 million by 2022.
And this year the figure had gone up again to $8.4 million.
Originally the Gateway was a visionary project to provide tourist and educational facilities, with special biosecurity checks, for those who wanted to visit the Kapiti Island bird sanctuary.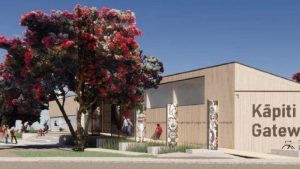 There are also Maori tourist facilities in the northern part of the island.
The three Iwi in the district all backed the plan — and it was enthusiastically promoted by the former Mayor, K Gurunathan, and Cr Janet Holborow.
Enthusiasm wanes
But at the KCDC meeting this week councillors and Mayor Holborow voted unanimously to kill off the project.
The motion also noted staff recommendations to explore other options to achieve Te Uruhi's proposed outcomes.