This week's poet is Gary Mutton, well known in the Aotearoa poetry community, says Gill Ward.
'He has published three poetry collections and a novella, 'Ear to the Ground' (Earl of Seacliff Art workshop, 2019).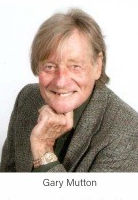 Gary, was a music graduate from Victoria University in 1965. His musicianship can be observed in the rhythm and construction of many of his poems.
Short story brilliance
Respected New Zealand poet, Alister Paterson has described Gary's short-story writing as "a most impressive piece of work – remarkable for its subtle complexity structure and development of character".
Denys Trussell says in his introduction to one of Gary's poetry books "speaking of the world, and the world is forever, without end and existent…. Poetry then becomes a way of making actual, of making what has always been real per se, more real to us."
Gary Mutton has recently moved to Kāpiti. He is an informed and interesting person to have conversations with about poetry and writing.
The mind and memory of a true poet
Recently in a phone conversation I mentioned the first line of a poem to Gary and astonishingly he immediately quoted the entire poem.
He, no doubt, has many other remembered poems in his repertoire.
I have chosen this poem as at this time of the year as I walk into the sea at low tide I love to look down at the shells, drift wood, and tiny objects under my feet. These words resonate with me.
Kāpiti
The sea heaves and drops
to leave catseyes, crabs, kelps –
a straining for harmony in pools
that stud the rocks gem-like.
Old sea. Its millennia of immense
patience, like an old goldminer's
lifelong trust, shifting tonnes
to reveal the gleaming ounces.
———————————-
And my wish for 2023…
My wish for 2023 to you all that your year is marginally above average. (I'm a realist).'
Gill