A strange year,gone without mourning,but here are a few suggestions to kickstart the year, says Ralph McAllister.
'Ian McEwan with Lessons leaps straight into Booker contention with his longest novel yet .
Adolescent Roland is seduced by his mad piano teacher Miriam and so begins his journey to a life of love,obsessions,pain and joy.
Deeply gripping,this is a cavalcade of brilliance, one man's decades of a failed marriage and family estrangement set within public events such as Chernobyl and Brexit.
McEwan with Lessons and this,his 17th novel ,has given us his masterpiece.
All the Broken Places by John Boyne is another addition to his superb oeuvre.
The Boy in the Striped Pyjamas was a major success in 2006 .
Young Bruno tries to fathom out what his father is doing at Auschwitz as a commander.
In this sequel Gretel, Bruno's guilt-ridden 90-year-old sister, looks back at her life and what could have been.
Shifting deftly in time from present-day London to Germany and France after the war Boyne shares with us his own skills, shot through with touching humanity.
Finally, Anthony Horowitz gives us more of his fictional self in The Twist of a Knife, his fourth in a series.
Set in present-day London's theatre world Horowitz is accused of murdering a theatre critic Harriet Throsby after she has written a particularly nasty review of his latest play.
This is madness, hilarious and familiar.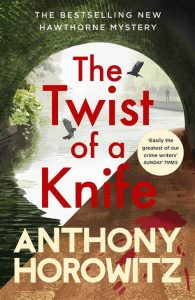 (Does anyone else remember late fifties and Donald Wolfit challenging local Dominion critic Bruce Mason to a duel after Bruce had been less than complimentary?)
Writer and fictional writer Horowitz offer laughter and more in this ingenious farce.
Enjoy'
Ralph