The Kāpiti Coast District Council has postponed any decision on closing down the controversial Te Uruhi Gateway project.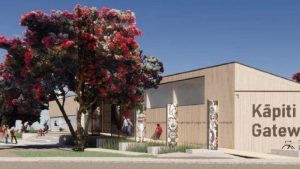 Districtwide Councillor Liz Koh moved a notice of motion to 'withdraw all resource consent applications and tell all staff and contractors to 'cease all work' on the Te Uruhi Gateway project.
The five who tried to can the project
Five of the 10 councillors voted to do this, but the Mayor did not.
The five councillors who supported the move to abandon the project were: Liz Koh, Michael Halliday (who seconded the notice of motion), Glen Cooper, Jocelyn Prvanov, and Nigel Wilson.
Costs for the project have soared from $4.6 million to $7.75 million.
But deputy mayor Lawrence Kirby asked that the project "stand on the table", with staff requested to provide an up-to-date progress report on the project at a future meeting.
Liz Koh explains
Earlier, Cr Liz Koh said: 'I have put the motion on behalf of the community.
'It became obvious during the election campaign that there is very little support for it.
'I don't wish to make any presumptions about how my fellow 'Councillors will vote, however quite a number of them mentioned during their campaigns that they do not support the project.
'I have no idea how the Mayor will vote but I'm sure the community will take great interest in her response to the motion.
'Stopping this project will improve the community's perceptions of Council, and free up resources for other community projects.'