Waikanae Watch editor Geoffrey Churchman says his resignation from the Waikanae Community Board this week was one of the hardest decisions he's ever made.
He says: "I felt honoured to have been elected with 1400 supporters and worked energetically for the interests of Waikanae residents.
"It was forced upon me because Cr Jocelyn Prvanov, an appointed and not elected member, had filed a Notice of Motion that defamed me.
"Readers of Alan Tristram's Kapiti Independent blog will have seen the Prvanov Notice of Motion seeking to have me barred from future meetings of the board for completely spurious reasons.
"Her allegations were baseless because in the first instance I did not write nor edit what she accused me of writing.
"It therefore became impossible to continue particularly in light of the fact that Chief Executive Wayne Maxwell had given administrative approval, and ignored requests to have the motion withdrawn.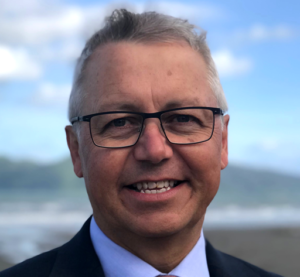 'It disabled me from being effective: the toxic atmosphere created by Cr Prvanov would have meant the effectiveness of the board would be much reduced.
"All for a personal crusade that may sadly now cost Ratepayers a by-election, depending on whether there is more than one candidate."
'Only step available'
"Resigning was the sole step available to me to stop her attacks and saving me from facing weeks or months of being personally abused. The stresses on myself and my family were becoming intolerable," Mr Churchman says.
Freedom of the press at issue, says Editor
Mr Churchman says he also needed to make a stand on the one of the principles he holds sacred — the freedom of political expression by others, and freedom of the press.
He adds: "Cr Prvnov was offended by a Tomasina Wolfe piece of political satire. She clearly opposes both fundamentally important democratic principles as evidenced by her actions.
"Prvanov did not appreciate my strong disagreement with two council decisions she supported:
"The first was the average 3.2% Rates increase for Waikanae people in June when the town has already been hit hard by increases in the last few years — I wanted no increase.
"The second was her vote in favour of Guru's Gateway. I pointed out the extravagant wastage and that Waikanae in particular is losing out with the need for a proper Library, among other things.
Mayor upbraided
This is a case where a proper Mayor would have seen council processes were being misused. The matter had nothing to do with my role as a community board member advocating for residents.
A competent Mayor would have called a mediation meeting to sort it out. This Mayor did the opposite and made clear his hostility towards me, underlining the need for me to resign.
Board members barred from briefings
In June he made a decree that Waikanae Community Board members were now barred from briefings "because you have access to social media."
That was a direct attack on my role as a media Editor, and infamously implied I could be the source of leaks. You cannot prove a negative.
I have never acted in the way the Mayor implied. He deliberately ruined a working relationship with the WCB for reasons based on his imagination, not fact.
"The Mayor has his weekly propaganda column in the Kapiti News. When Board Chair James Westbury similarly sought a weekly column in the Kapiti News, rotated around the the Kapiti Community Boards, the Mayor ensured it didn't happen.
"Until the toxic culture that pervades KCDC is changed, any person fighting for ratepayers' money to be wisely invested is likely to find themselves in the same boat as me.
"However, I am not silenced. I intend to be an independent analyst of council matters; both praising and and criticizing as appropriate."