The Kapiti Coast Council asks: "Worried that you can't hold it from Waikanae to Wellington?" (Hold what, we ask? — Ed)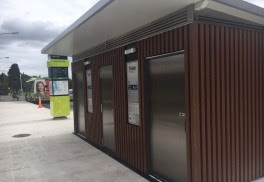 The Council goes on: "Good news commuters, together with Greater Wellington Regional Counci, we've opened a new 24-hour wharepaku (toilet block) at Waikanae Railway station.

Councillor Jocelyn Prvanov says Council has been trying to get to the bottom of the station's bathroom situation for some time.
So, she says, "it's great to see the Regional and District Councils teaming up to solve a problem for both public transport users and the local community."
Note: Apologies for the toilet jokes, but no-one, particularly politicians, can resist them — Editor)