The Transmission Gully motorway, originally due to open last year, has now been delayed yet again.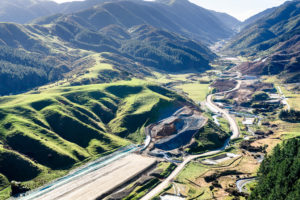 The opening date for this month (September 27) cannot be met, says Waka Kotahi.
The 27-kilometre motorway should be a safer and more reliable route for motorists travelling between Kāpiti and the lower North Island to Wellington. It can also provide the Wellington Region with greater resilience during earthquakes and storms.
Waka Kotahi (Transport Agency) says it's working with the Transmission Gully Public/Private Partnership to confirm a new opening date.
The Partnership have advised Waka Kotahi that the recent Covid-19 lockdown, Alert Level 3 restrictions, and supply chain constraints as a result of the extended lockdown in Auckland, mean they can't meet the agreed opening date of 27 September, says Brett Gliddon, Waka Kotahi General Manager Transport Services.
Work resumed
"Work has resumed on the project under the appropriate health and safety protocols since the move to Alert Level 3, then Alert Level 2, in Wellington," Mr Gliddon says.
"However these new delays, on top of the risk that already existed around achieving the contractually agreed opening date, mean it is clear that the motorway will not be ready to open on 27 September,"
"Waka Kotahi, WGP and CPB HEB are working together to understand the full impacts of the lockdown and restrictions on the project, and confirm a new opening date," he says.
"We know that people are keen to see the road open as soon as possible, and everyone is working as fast as they can to get the road open to the public."
As well as finishing works, there are other requirements which also need to be met by the contractors before the motorway can legally be opened for public use.
These includes safety and asset quality assurance work, and compliance with environmental consent conditions.