Never underestimate the power of theatre, reports Ralph McAllister.
'CINDERELLA The Pantomime — Simon Leary and Gavin Rutherford's second script for Circa — opened at the weekend to a rapturous reception from young and old.
(Cinderella – The Pantomime, for Circa Theatre, Wellington, NZ. Directed by Susan Wilson).
Incredibly hopeless Rosie
This time we are in Wellingtown (sic) in the hands of an incredibly hopeless would be magician Rosie Bubble played by Dame (soon) Gavin Rutherford.
She /he cannot even get Cinders ' name right.
He/she has to rely on audience participation of the most vociferous level ,to prevent Cinderella (Natasha McAllister, no relation) from being renamed Salmonella or other options,all of them distasteful to discerning protectors of tradition.
And tradition we have in plenty with Susan Wilson , director ,Michael Nicholas Williams music maestro ,leading a team of remarkable talent through the most improbable and hilarious of plots .
I will not endeavour to outline the story,involving,as it does ,nastiness from real estate (boo) agents,a face forgetting prince ,a rat of versatile identities and others.
The show hurtles along as the cast of seven present us with energy levels that promise to light up Wellingtown in the next power cut.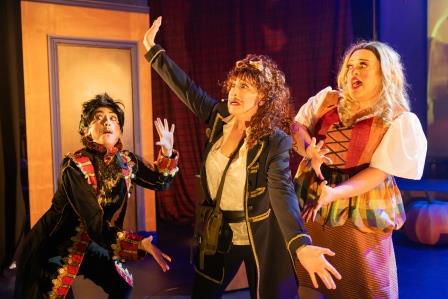 Huge accolades to all with a special mention to Dandini (Bronwyn Turei) whose vocal pyrotechnics lit up every song she delivered.
As usual, Gavin Rutherland presided with his/her usual queenly manner and his brilliant sense of timing.
The young man who accompanied me had never been to a pantomime before and was rapt,from the beginning ,when he was singled out by flirtatious Rutherford,to the conclusion which ended in joyful celebration from all.
Tighten the first half by losing ten or fifteen minutes and the show will only gain in stature.
And,by the way ,my young friend ,is in his thirties,which only goes to prove yet again,the power and appeal of live theatre.
Ralph McAllister