"Age cannot wither her" says Shakespeare,"nor custom stale her infinite variety" —
Ralph Mcallister asks whether this was wishful thinking or his being blinded by love for Cleopatra?
We have to decide, when seeing a performance of this great Shakespearean play.
On a less sepulchral note, you will choose what you like best , if and when you see THE OLDER THE BETTER, a revue currently playing at Circa. It's a Hens' Teeth production compiled and hosted ably by Kate Jason Smith.
In 1956 Sunny Amey and I were in WITS END written ,directed and starring the brilliant Bruce Mason.
It was to be one of the first professional revues staged in New Zealand.
We never made any money.
But we had huge fun in a cast which included George Webby and a somewhat inebriated lighting woman who became adept at blacking us out before some crucial gag endings.
But Bruce continued to remind us that revue pieces never pleased all of the audiences all of the time and if you got it right with about 60 percent you had a show.
And so back to THE OLDER THE BETTER.
Sunny returns,after a lifetime in theatre ,with a gently sharp reminiscing of life in the thirties.
Kate Harcourt and Helen Moulder revive,years after, their hilarious Papageno duet,which could have and perhaps should have ended the show ,which is about 20 minutes too long.
Trouble is what to leave out, as the plethora of talent displayed on opening night was greeted with equal enthusiasm.
Over to you producer to fix some of the "infinite variety".
But there can be no argument about the star of this Hens' Teeth. From the the minute she twists and turns on stage Coral Trimmer is mesmeric.
Her harmonica playing is of riveting subtlety,exploring a dynamic of range and poignancy which makes you almost believe the instrument is a reality of its own.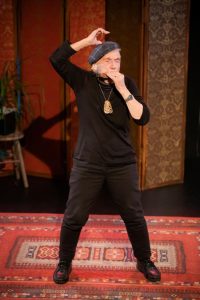 But it is the body that almost,not quite,transcends the playing.
It is a long long time,if ever,that I have been so captured with such a talent.
DannyBoy, Stormy Weather and St Louis Blues as performed by this paragon proves without doubt that age has not withered her.
Think Elaine Stritch and you get part of the picture.
'A memorable evening'
A memorable evening with Circa bursting at the seams ,particularly at the interval of the two shows .
Remind yourself ,and remind yourself again ,of how lucky we are to be able to congregate and laugh and cry together as this disastrous 2020 ends.
Still interested in percentages?
75 % for me, as I lay me down to sleep.
Ralph Mcallister
( All photos by Stephen A'Court )