Kāpiti councillor Jackie Elliott has issued another warning about the Te Uruhi Gateway 'juggernaut rolling on'
while councillors sit on their hands.
Questions needed
"Councillors should be asking questions about delays to the Gateway for reassurance that the entire project agreed to by council is consentable" says Districtwide Cr Elliott.
"The design and consenting process which started in April this year remains incomplete with consent only granted for initial stream works."
Start put back twice already
The Gateway project start time has been rescheduled twice in the past two years, says Cr Elliott. 
"This is by no means a criticism of those undertaking the process and, as an R.M.A. ( Resource Management Act) Commissioner, I completely understand the complexities of it.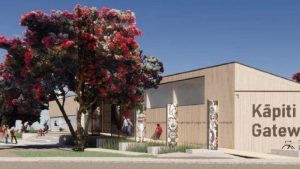 "However we have been contacted by the public many times — rumours persist that income-generating activities proposed in the original business plan are now changed, deferred or removed". Says Cr Elliott.
"This would affect the viability of the project and a diligent council would be requesting an updated report on the consenting.
"Importantly, if the project is changed, it would give councillors grounds to revoke the decision to proceed with the project if the business case is no longer relevant."

Tried to change the timeline
Cr Elliott also says: "During the Long Term Plan, this being our time to plan and prioritise, I tried in all public workshops to initiate conversation about re-prioritising the project.
"My reason being cost, alongside all the other projects they were pushing, and the case for the timing of it, which was not supported in the 'long COVID affected' onshore and offshore economic environment. "
But she says she failed to get support from other councillors.
Councillors do have power over agendas
"Councillors do have the provisions to bring resolutions to agendas," Cr Elliott says.
"Councillors can decide to revoke or change previous decisions, and ample opportunity has been given to those who still publicly say they are opposed to the project, to act on behalf of the public they represent and start asking questions," says Cr Elliott.  
"I made a further request just last week, under urgency, this time for their support in getting a resolution on the table for council to request a report back on the consenting process. This request was also refused."
'The Gateway juggernaut has rolled on'
"Meanwhile, the Gateway juggernaut has rolled on, with no appreciation of any urgency or recognition by councillors that we can legitimately ask for reports," she says.
"So I am being transparent and going public out of concern at the lack of fundamental understanding of council processes and willingness to apply diligence."