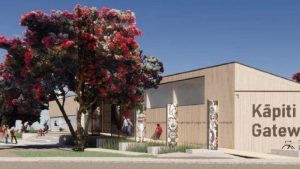 Jeremy Smith reports four Kāpiti councillors will attempt to delay or halt the controversial $4.5 million Te Uruhi Gateway project at Paraparaumu Beach.
The four, who all voted against the proposal in February, have brought a notice of motion which has been added to the scheduled council meeting this Thursday.
Compton, Halliday, Prvanov & Randall
The four are Gwyn Compton, Martin Halliday, Jocelyn Prvanov, and Bernie Randall. At the time, Prvanov described the project as a" juggernaut". The council had already received a 2000-signature petition against the Gateway.
In February the councillors spent most of the day discussing the Gateway, which went through on a 7-4 vote.
The four signatories want a report which would detail any changes to the resource consents for the Te Uruhi buildings.
They also want the business case updated to show any additional costs from delays and construction sector inflation since February.
Independent review sought
They want a pause on any further work at the Tikotu stream until the independent report on the project has been  completed. The independent report was originally scheduled to be delivered in August.
The second part of the motion wants councillors to debate if they should go any further with the project.
Kapiti Eco Tours owner Glen Cooper who spoke against the proposal in February is worried about the costs his business would face and doesn't believe the proposed visitor numbers.
Randall, Burns ads Ruthe concerned abut running costs
Bernie Randall along with community board member Guy Bur ns and Paraparaumu beach resident Christopher Ruthe have already expressed their concern at the costs of running the centre.
A clearing ceremony for the project was held ten days ago at theTikotu stream.The KCDC website says the first work there includes new retaining walls, removing the Tikotu stream pedestrian bridge, installing a new stormwater pipe under the car park, and moving a pohutukawa and phoenix palm near Marine Parade.

It notes the phoenix palm is too large for its location and is dangerous because of its sharp and poisonous fronds.
———
But clearly, adds Editor Alan Tristram, a lot of water has to run under the bridge before Te Uruhi can possibly welcome visitors.
And Mayor K Gurunathan has already invested much political capital on the contentious scheme — just a year before he has to face the electors again.