Kāpiti's proposed Te Uruhi Gateway at Paraparaumu Beach has been voted through after a day-long debate which include a haka in the District Council chamber and angry protests.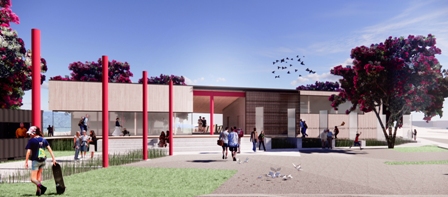 The Kapiti council faced a government deadline for $4.45 million project, with half to come from the Covid Recovery fund.
Vote went 7-4
It wasn't until after 5.30 pm when the councillors and mayor voted 7-4 to give the go-ahead. The four anti votes came from councillors Jocelyn Prvanov, Gwynn Compton , Martin Halliday and Bernie Randall.
Before his vote Compton said he had problems with the business case based on pre-covid figures. He suggested the process behind the proposal could be investigated by the Auditor-General.

Halliday said the proposal could affect the council's reputation and he wasn't comfortable with the forecast income figures.
'Like a juggernaut'
Prvanov said the Gateway proposal was like a juggernaut.
The Gateway day of decision started with a room crammed with representatives of the two iwi – Te Atiawa ki Whakarongotai and Ngati Toa Rangitira, and members of the public who had signed the 2000 signature petition against the proposal.
It was so full that one of the major submitters, John Barrett of Kapiti Island Nature tours had to wait outside before he made his submission- in favour of the centre.

A 30-year kaupapa
Barrett said the proposal was a 30-year kaupapa for him, and the working model for the business was bang-on. He said visitor figures would increase but the entrance facilities for the trip to the island were third world.
Te Atiawa chair Andrew Baker says the land at McLeans Park was a generous gift by Ngati Toa reflecting the mana of the name Te Uruhi.
But the owner of the other Kapiti island service, Kapiti Eco tours Gren Cooper said the figures for the centre were not achievable and the numbers were made up.
Visitor numbers down
He said his visitor numbers for the three months- November to January were all down on the same months last year. He said the process had deliberately disregarded him and the costs could drive him out of business.
Kapiti island resident Chris Webber speaking for his brother Karl Webber said the decision should be delayed. He said while it might appear that all iwi members supported the centre it was a question of which Maori you speak to.
When councillors spoke before the vote most said they had reservations. But James Cootes said the combined iwi presence and submissions were a powerful moment while Angela Buswell said her hand was on her heart.