Roger Hall's WINDING UP, at Circa for the next month, is a triumph, says Ralph McAllister.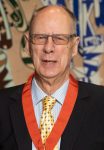 In his Olympic-like career stretching back over 50 years,this revisiting of CONJUGAL RITES shows Hall has lost none of the skills which were evident,so memorably, with GLIDE TIME over forty years ago.
Gen and Barry sit in their elegant Wellington apartment planning their cruise trip and a visit to meet the grandchildren ,for the first time ,in London.
This is 2019 so we know that problems will surface.
They do.
Hearing aids,funeral planning,falling over,discarding old clothes and books and more, are all discussed with Hall's rapier like humour.
And poignancy
Ginette McDonald and Peter Hayden  in performances which shimmer and glow,take every opportunity to show us what 50 years of intimacy and pride can offer.
Susan Wilson directs with a sensitivity which ,ultimately,ends in audience tears of recognition.
I asked my 17 year old family friend Em for her thoughts
"A great show with a captivating second half.I didn't get a lot of the jokes or know many of the songs used but was still able to have a good giggle throughout.
It definitely gives me food for thought and leaves me thinking."
My major reaction was to applaud Hall's courage in tackling such a volatile and emotional subject.
He has the gift"To see oursels as others see us"
And for that alone he deserves his own Olympic gold.
Ralph