KIN"s resident poet Gill Ward is back with poetry news — and a special tribute to her friend Julie Leibrich.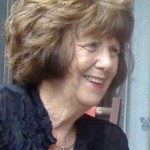 Gill writes: "So much has been going on in my mind and my brain these last weeks it has been hindering my writing processes somewhat.
The death of Julie Leibrich
First things first – Our local talented writer Julie Leibrich died on Jauary 28th. I got the news two days later on my birthday.
I hope some of you will take the time to look up Julie online you will find out much more about her than I can tell you here.
Julie was a prolific, accessible and intelligent poet, she was a wise and sympathetic psychologist and one of New Zealand's first mental health commissioners, an author of children's books and nonfiction books and articles. She travelled and spoke at conferences overseas.
Her twelfth book, in the lost and found department of my life (Steele Roberts Aotearoa Publishers) was published in 2020. At the very end of 2020 another book appeared recently Angel of the North, a journal of her trip though England complete with black and white photographs.
Along the way she shared her talents and knowledge with generosity and we loved her readings at Poetry events.
'We swam together and wrote together'
Julie was my friend, and we swam together and wrote together and laughed together, but I cannot make claims because of this as she was all that and more to so many others. She was loved and will be missed.
Here is a little poem of Julie's —
The cost of Love
'We all live
a kiss away from life,
a breath from death.
Grief takes us captive.
life shakes us to the core
but still we beg
for more and more, and more'
On a brighter note. Although I am missing Poets to the People (a lot!), an entertaining and stimulating poetry session was held at Pararparaumu Library on Sunday February 7th.
Five poets land at Paraparaumu Library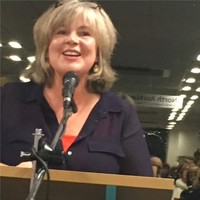 Mary McCallum (Cuba Press) brought along 5 of her published poets, Richard Langston, Rachel McAlpine, Janis Freegard, Mary Cresswell and Simon Sweetman.
It was a Tall Tales & True event where the poets told stories about the poems they read. Great fun and the camaraderie among the poets and Mary was a joy.
Fabulous for me to see so many of our previous poetry café audience there loving every minute.
Well done Friends of the Kapiti District Libraries committee and Mary Mcallum. Thank you.
You know that saying "it's not hoarding if it's books"? Well I'm beginning to think I am that exception that proves the rule on that count.
Anyone else feel like this? But as Anthony Powell said "Books do furnish a room".
Recently I wrote to House and Garden (read it in the library) to point out to them that all their beautiful rooms never have bookcases in them. If you come across a copy pick it up and have a look.
Here's a word from F. Scott Fitzgerald:
All good writing is swimming underwater and holding your breath.
Best wishes for a marginally above average new year (being realistic)
Gill.