'The Te Uruhi Gateway project at Paraparaumu Beach is now likely to gobble up millions of exctra dollars, despite huge public concern.'
This is the opinion of lawyer Christopher Ruthe, Kāpiti Ward Councillor Bernie Randall and Deputy Chair of the Paraparaumu/Raumati Community Board, Guy Burns.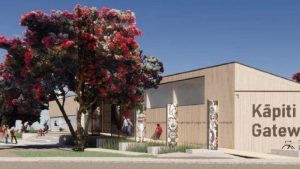 Miillions of dollars will be consumed in extra costs, such as associated roadworks, they say.
"We are now in Spring. but continue to be chilled by how KCDC has approved the building of the Kapiti Gateway against public opposition, they say.
"Costs for the Gateway project are already increasing yet the project is still awaiting resource consent.
"Over $120,000 (that could have kept the Waikanae Recycling Centre open) has been spent on getting the necessary resource consent."
Opposition in the Long Term Plan
In a special media release, the trio also say: "The Gateway continues to gobble up ratepayers money to fund its construction despite large opposition to it in the Long Term Plan community consultation document.
"The majority of Councillors voted to continue with the Gateway despite it being the only item in the Long Term Plan consultation to be overwhelmingly opposed by the community.
"Significant new costs continue to be incurred at ratepayer expense. Under the new resource application for the Gateway, the roundabout at the end of Kapiti Rd and feeding Manly St is to be slashed in size and 3 traffic islands created for the addition of new carparks at the Boat Club.
$2 million extra expense
"This is likely to cost at least $2 million, one more extra expense."
Burns, Randall and Ruthe are also worried about parking. They say "Car parking at the nearby golf course is proposed and is vital to meet KCDC's legal obligations. It will likely require pedestrian crossings and significant traffic interruption.
"Soon the gates will close on the 19 car parks at Maclean Park so landscaping of Tikotu Stream and planting native species can take place.
"The stream is still likely to have warning notices about pollution in the summer as water quality is not being addressed. "
They conclude: "The price for the Gateway, plus its $600,000 per year operating costs, is a price not worth paying for."