Once again a poet who was always popular at Kāpiti Poets to the People, says Gill Ward.
Richard Langston invariably brought a crowd.
His poetry is unfailingly thoughtful and accessible, without being sentimental or superficial.
Richard writes about what he knows and it is easy to identify with the poems he shares. Poems that you read again and think about with a smile or with empathy.
One of my favourite poems is one he wrote about walking to school with his twin sister. I lost my twin sister and I cannot read this poem out loud without tears at the last lines: Sister,I am still / holding your hand.
This is from Richard Langston's fifth book of poetry, Five O'Clock Shadows (The Cuba Press,2020).
To quote Cuba Press — "Born to a Lebanese immigrant family in Dunedin, and a Country Calendar director by trade, he is constantly refreshing his acquaintance with the country he calls home. Somehow writing it down seals the deal.
'We make marks in ink,' he says. 'We are here.' "
I chose this poem firstly because it's really tender, but somehow has a slight strain of gentle humour and I love it!
Seabird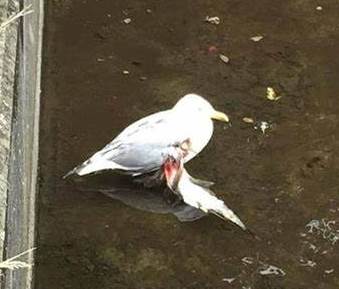 I have not forgotten that seabird,
the one I saw with its wings
stretched across the hard road.
One eye open
one closed.
I wanted to walk past,
But the road is no place
for a burial –
I picked it up by the wings,
took it to the
water and floated it
out to sea,
which was of no use
to the bird. It had ceased.
I like to think someone
was coaching me in the small,
never futile art
of gentleness.'