Alan Tristram says it's hypocritical of National candidate Tim Costley to make a public appeal to save Kāpiti Coast Airport when National sold it for a song in 1995.
Wing Commander Costley has called the meeting in Paraparaumu on Saturday, August 29, to 'Save Kāpiti Coast Airport.'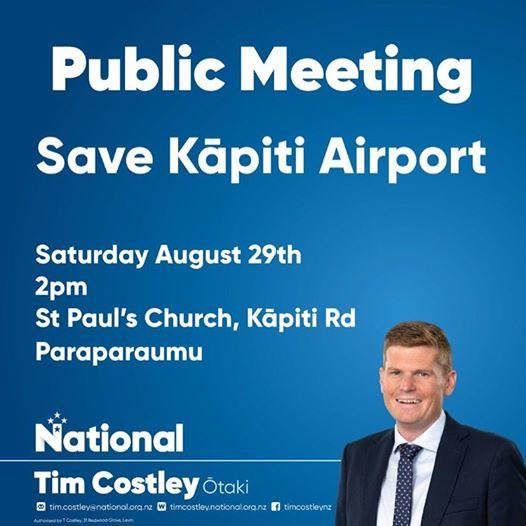 But Editor Alan Tristram reports that it was a National Government that sold off the Airport to a developer for just $1.6million in 1995.
He says the original Maori owners were never given a look in.
And a succession of developers has extracted huge profits from the land speculation ever since.
Noel Robinson, an Auckland developer, bought the Airport in 2006, promising much but deliverying virtually nothing to the people of Kāpiti.
Alan Tristram says the Parapraumu Airport Coalition, of which he was a founding member, warned at the time that Mr Robinson's grandiose plans were 'smoke and mirrors,.' designed to ensure a plan change went through.
He says Mayor Jenny Rowan and many councillors went long with the PR spin and did nothing to stop the rot.
Soon Noel Robinson, once extolled as a 'son of Kāpiti', made off back to Auckland, selling off the airport for a tidy profit to business people who had no interest in the public benefit.
Now, says Tristram, we are in the sorry state which National has brought us to.
"Tim Costley should start his campaign with a public apology for his Party's links to a succession of 'developers' who have sucked out the profits from land which should have stayed in public hands," he says.
Meantime, of course, nothing has been done to remedy the wrongs againt original Maori landowners,.
He says the whole affair stinks to high heaven — and those responsible, including former mayors, should hang their heads in shame.