New supported transitional housing in central Wellington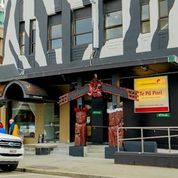 — The Wellington City Mission, with the Housing, Ministry, has opened Wellington's newest transitional housing.
It's in the former backpackers "Zebra" building at 58 Tory Street, now known as Te Pā Pori.
Three Caninet Ministers for the opening
It was opened by Finance Minister Grant Robertson, Housing Minister Megan Woods and Minister for Homelessness, Marama Davidson. 
Wellington City Missioner Murray Edridge says this initiative has been possible with the support of the Ministries of Housing and Social Development.
"It is an occasion to celebrate Government and the community sector working together in response to the housing challenges we are facing in our city."
The Government is contributing fifteen million dollars over the next three years to support Te Pā Pori.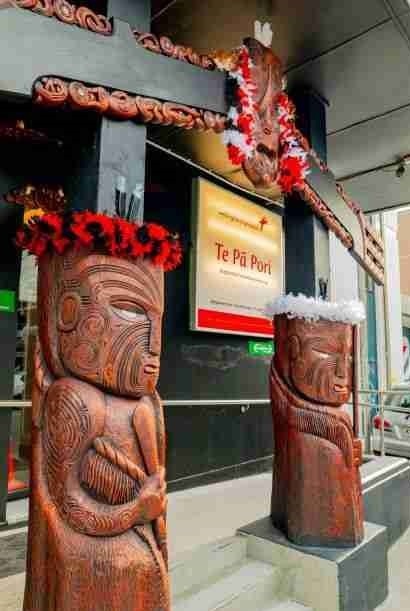 "Partnerships between organisations such as Wellington City Mission and the government are vital to ensure that services such as transitional housing are available to our most vulnerable people in the community when they need it most," says Housing Minister Megan Woods.
Boutique accommodation
Alex Cassels, owner of the landmark building, was converting the property into boutique accommodation when the Covid-19 pandemic struck.  With no international travellers arriving, it made sense to re-purpose the building, says Missioner Edridge.
"Alex and I had a conversation about the Mission's plans to have an impact on the issue of homelessness. We could see that the zebra building could play a big part in that.
"He agreed, so continued the renovation without changing the nature of the refurbishment. How cool is that! We are delighted to be welcoming our manuhiri into such a beautiful place."
The six-year lease between the Mission and Mr Cassels is underwritten by the Ministry of Housing and Urban Development.
An important role
"Supported transitional housing like Te Pā Pori plays an important role in providing those experiencing homelessness not only with a warm and dry place to stay, but with intentional support to help people get back on their feet and to secure a permanent home."  says Anne Shaw, Deputy Chief Executive – Housing Supply, Response and Partnerships, at the Ministry of Housing and Urban Development.
The Pōneke Promise
Mayor Andy Foster says the opening of Te Pā Pori is another important step to meeting the needs of our vulnerable community needing housing and the wrap-around support provided so well by Wellington City Mission.
"It is also another positive step in being part of the Pōneke Promise, our social contract with Police, Wellington City Mission, Greater Wellington Regional Council, and the city's hospitality and retail sectors. This partnership brings together combined initiatives that will deliver a safer, more vibrant, and compassionate city."
Community engagement has been a high priority for Missioner Edridge.
"We knocked on countless doors and had many conversations with residents and business owners nearby. We also put on a morning tea in the building so that we could show our neighbours what we are trying to do here. That has been so well received and people are genuinely excited about our approach." 
Community, community community…
Community underpins life in each of Te Pūnaha Pā and is what makes this model so impactful says Maria Millan, GM, Residential Services, Wellington City Mission.
"We start every morning, gathered together, with whakaaro mō te rā (thought for the day). During this time, we share our successes and our struggles, and we encourage each other as we make our plans for the day."
Ms Millin says manuhiri can access many social services and support, including budgeting advice, counselling, housing advocacy and education.
This transitional housing differs from emergency housing
Wellington City Mission's model of transitional housing differs from emergency housing. Structures and processes are in place to ensure that manuhiri are equipped to move in to permanent housing within a three to six month time frame. 
"We call the people we walk alongside manuhiri, which means visitor. Because this is not their home.  It's shelter and support on the journey. They deserve better – they deserve a permanent home in the community."  
Te Pā Pori is the largest transitional housing facility outside Auckland, and part of Te Pūnaha Pā, Wellington City Mission's pā system of transitional housing.
Te Pā Pori reflects the values and tikanga of the established communities of Te Pā Maru in Taranaki Street and Te Pā Manawa, Britannia House in Petone.  Manuhiri sign a three-month contract with the Mission which outlines behaviour and commitment expectations. 
Te Pā Pori's layout
Over six floors, Te Pā Pori consists of 77 fully refurbished one-bedroom units, plus six apartments suitable for independent living.
There are four communal spaces, designed for bringing manuhiri (guests) together for connection, shared meals, and personal development. The building is staffed around the clock, with onsite social workers, support, and concierge security. 
Since the Mission began operating supported transitional housing, 135 manuhiri have found permanent homes.
Missioner Murray Edridge says "We know in Wellington we are facing some challenges around homelessness, isolation and personal trauma.
"Because of the scale of the building with 83 apartments, we will have the opportunity to do not just do great things, but great things at some scale. And I think that will make a substantial difference to our city."