It's usually the crims who confess, but as Jeremy Smith reports, this time it's a Judge.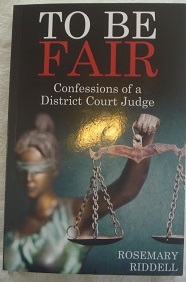 Jeremy's been reading 'To Be Fair – Confessions of a District Court Judge' by Rosemary Riddell. And here's his verdict —
Question: what's the proper way to address a Judge in the District Court?
The answer is 'Your Honour.' But retired judge Rosemary Riddell says it can be 'your majesty', which she liked, 'aunty,' which she also liked because all her aunties were dead, 'whaea.' And some others not so pleasant.
As you might guess, Riddell's life before the law and on the bench is a bit different.
Judge linke4d to novelist and film-maker
Judges are lawyers but Riddell did not start that profession until she was 40. It's not common for judges to be filmmakers but Riddell was, helped by the fact she is married to a film-maker and novelist: it was his novel which was the basis for the film "The Insatiable Moon".
She had already won a Moondance Festival award for a short film called "Cake Tin".
Her partnership with her husband included working alongside him when he was church minister in central Auckland.
It's usually criminal lawyers who write, but not now
If you ask a criminal defense lawyer, it is they who write. It's also unusual for a judge to publish a memoir –  more commonly these come from high powered criminal lawyers.
The conflict implicit in a courtroom drama is a staple of television series and movies, and features daily in news reports. But these normally focus on the lawyers, the witnesses and the defendants.
The judge may only come into it with sentencing, which can include the Talkback reaction, when 'Dan from Dargaville'wants to know why they "didn't lock him up and throw away the key". This chapter is called "Line 'em up and shoot 'em".
Riddell had a successful legal career in Dunedin before going to the bench at the district court in Hamilton. This included mental health hearings, going on circuit to the small towns around the Waikato. She also covered general criminal hearings– but not jury trials, marriage breakdown and custody battles.
She has stories -some hers, others from fellow judges — some bizarre, some amusing, some heartbreaking and including personal matters.

Riddell includes comments on legislation and government decisions with results which show up in our courtroom impacts.
No fan of the "Three strikes" law
She's no fan of the "Three strikes" law which says offenders in their third offence must receive the toughest sentence possible.
Who should read this book? All lawyers contemplating a career in the courtroom, all journalists and journalism students, police officers, social workers, probation officers.
Also anyone with any interest at all in how our society dispenses justice and what it's like to be the person who at the end of the hearing says: Here's what will happen.
——————–
'To Be Fair – Confessions of a District Court Judge' by Rosemary Riddell, Upstart Press, Auckland