Jeremy Smith reports that Kāpiti voters could have been given the choice of voting for seven ward councillors, and three at-large councillors, at next year's local elections.
He sys this suggestion comes from two Waikanae residents, Margaret Stevenson Wright and John Vickerman. Stevenson Wright is a former member of the Waikanae Community Board.
But the proposal before councillors to consider is for a 'superward' with three councillors combining Waikanae with Paraparaumu. The other two wards would be Otaki, and Paekakariki/Raumati.

KIN understands the KCDC has received more than 450 submissions on its representation review, and fifty per cent of these come from Waikanae.
Waikanae 'under-represented'
Currently Waikanae, with one ward councillor for nearly 15,000 people, is under-represented : ward councillors should technically represent 10,000people – plus or minus 10 percent.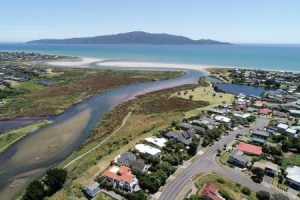 The Stevenson Wright-Vickerman submission is that their plan will "better represent us or our community. We regard the ( Council) proposal as an attempt to diminish local democracy and not enhance it."
They also say that while Waikanae has distinct communities of interest its residents also identify very strongly with a collective Waikanae identity.
Not considered by councillors
They say that the option of having seven small ward councillors and only three district wide (which they suggest) was not considered in the proposal formally put before councillors.
They say the number of ward councillors should not be tied to having the same number of district-wide councillors – the current five plus five model.
The two say some of the comments made at an initial consultation were recorded as perceptions which were elevated to principles.
They say: "The impression given is one of a foundation built with rigorous scientific method, ultimately arriving at the preferred option presented today. We believe this is misleading, that some statements relied on are unverified, and the consequences as they stand are not warranted. "
— but has the Council got things
wrong?
Worries about Community Board abolition plan
Stevenson Wright and Vickerman are also concerned about the possibility of disestablishing some or all of the community boards.
"This (KCDC) review so far has not portrayed the role of community boards fairly. "
They say the decision to put the abolition of community boards on the formal proposal
apparently occurred in the councillor briefing of 29 June 2021.

"There is a public perception that in doing so, councillors have acted with bias, self‐interest, predetermination and potential conflict of interest," they say.
"A review which dissolves all Community Boards and increases the power and control of a Chief
Executive does not enhance local democracy."