The filthy state of many NZ rivers and streams is the theme of a new
novel from Kāpiti investigative journalist-turned-author Anna Kenna.
Troubled Water will stir the waters
Anna says she hopes the story, Troubled Water, will strike a chord with young people.
"Most of our rivers are unsafe to swim in and we're passing these unhealthy waterways onto our children.
"They are the generation that's going to have to keep future governments honest in their pledge to clean them up.
Taking action
"I hope this book will empower kids to take action to ensure they inherit waterways they can enjoy, as their parents and grandparents once did."

Anna's latest novel is the third in her series about young reporter Caitlin Nove (AKA Viola Vincent), and follows Caitlin's investigation into a polluted swimming hole in the beach settlement where she is holidaying with her granddad.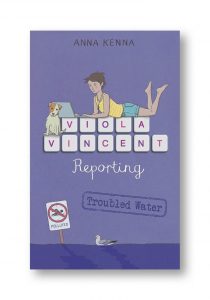 Anahera and the local iwi
Along the way she meets Anahera, a young Māori woman, who believes localfarms are responsible and says her iwi is fed up trying to get the council to do something about it.

Caitlin sees the opportunity for a story, but her attempt to expose the issue backfires, stirring up feelings in the community that run as deep as the river itself.
Saving a dying river
"This is a story about two young women with very different perspectives who share a common goal to save a dying river," says Anna.
"The quest tests their friendship and ultimately requires Caitlin, to open her mind and to embrace a differentworld view," says Anna.
The author's motives
Anna, a former television journalist who's turned author says writing the book enabled er to learn more about mātauranga Māori (Māori knowledge) and how the concept of kaitiakitanga or guardianship of water is essential to efforts to restore New Zealand's degrading rivers and streams.
The value of indigenous knowledge
"At a time when everyone is so desperate to save the planet, the concept
of guardianship of natural resources and the value of indigenous knowledge has never been more relevant," she says.

The story depicts a coastal settlement under threat from increasingly violent storms and rising seas and the anxiety this creates for the residents.

Anna says: "I hope (the story) shows young people there is much
they can do individually and collectively to rewrite the script of their future."
(Viola Vincent Reporting – Troubled Water by Anna Kenna.
annakenna.com)