Jeremy Smith reports the housing crisis in Kāpiti is now so bad 50 adults and 40 children are in emergency housing.
At the same time 190 are on the public housing list — and even this does not reflect the actual need.
He says these figures were put before a Kāpiti Council workshop as part of a proposed housing strategy.
'Awful' situation
They were described as "pretty awful' by Kāpiti district councillor Jocelyn Prvanov.
Councillors were told that a quick survey on Trade Me showed only 20 rental properties available in Kapiti.  The cheapest is 400 dollars weekly for a two bedroom property in Otaki.
The For-Sale' list contained 213 properties in Kapiti – the cheapest was $620,000 in Raumati.
160 in boarding houses
Kainga Ora has 250 houses in the district and 160 are living in boarding houses.
The rise in rents is partly from Covid but also from Wellington people "on Wellington wages" buying into Kapiti, the workshop was told.
People in the lowest quarter of the income scale have faced a 435  per cent rise in rents over the last twenty years. In that time the median income has only gone up by 112 per cent.
The percentage of renters who are no longer able to purchase a house and service a mortgage is estimated at 95 per cent. And only 88 percent are in a position to buy at the entry level of $696,000.
Police in housing difficulties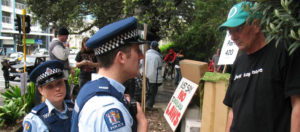 The housing crisis also extends to working people, with reports that police appointed to Otaki are struggling to find somewhere to live.
And councillors heard that people paying $800 rent every week would not be able to buy a house.
"Massive problem" facing older people
Councillor Angela Buswell also described what she called the "massive problem" facing older people who will never get a mortgage, and who are paying up to $1200 a week for places to rent, often so they can have grandchildren to stay.
She said over 60's were still working so they could meet the rent and could never get into retirement villages because of price rises.
Councillor James Cootes, who has a business background, said business owners looking for replacement staff face a major problem — where are the new staff going to live?
Latest figures suggest Kapiti rest homes have 18 people on their waiting lists and two out of three have closed their books – they don't have enough staff.

The flow on from this blockage means there are even fewer rental homes coming on to the market.
The crisis and young people
And there are major problems at the other end of the age scale.
Paekakariki's Sophie Handford, by far the youngest councillor, said many young people were continuing to live at home or were ending up in very unsatisfactory living situations.