Kāpiti councillors have agreed to delay any vote on the future of the Kāpiti Coast Airport following pleas from local Iwi.
Representatives of the Puketapu hapu, traditional owners of land where the airport is sited, asked district councillors at a meeting yesterday to hold off on any formal action over the airfield's future.
Earlier, a KCDC report said it was appropriate to now ask central Government to buy the airport land and to operate it in partnership with iwi.
Meeting arranged betsween owners and hapu
But the Puketapu iwi wanted ( and got ) a delay until after November 11, the date when hapu representatives are set to meet members of the Templeton group, the current airport owners.
George Jenkins and the Puketapu speakers asked the councillors to 'stand with them in the fight to restore their Mana and right historical wrongs.'
Mr Jenkins said an airport operated in association with iwi could be something  amazing. Hapu and iwi were involved in at least six Waitangi Tribunal claims which concern the airport land. 
Report suggested formal support for return
A report to councillors at yesterday's meeting had asked for support for moves to return the land to original owners.
In August councillors had backed a call for the return.
Subsequently a Save Kāpiti Airport (SKA) group was formed to keep the airport operational on the basis of its importance to the region.

National Party action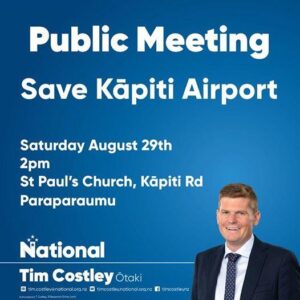 Save Kāpiti Airport was set up by the National party candidate for Otaki Tim Costley. It received support from airport users including Air Chathams, Sounds Air, Kāpiti Aero Club, private operators and airport businesses and the Kāpiti Chamber of Commerce.
Maori history in the area
The three Kāpiti iwi– Ngati Toa, Te Atiawa and Ngati Raukawa — had occupied land in the district since the 1820's.
The airport land is part of Te Atiawa's ancestral and tribal lands.

Acquired for war use
The land was compulsorily acquired under the Public Works Act for airport use during the Second World War.

Later it became a general airport and was sold to private interests in 1995 and on-sold to Paraparaumu Holdings in 2006.
Councillors briefed on Waitangi claims
Briefing notes for councillors recorded that the tribunal held five hearings over Atiawa and Ngati Awa Ki Kāpiti claims in the 12 months to August 2019.
A report on other claims is not expected for at least another 12 months.
The proposal to delay any council action or discussion until after the November meeting was passed unanimously.