A Save Kāpiti Airport meeting pulled in more than 100 people at St James church, opposite the airport, and extra seating was needed to fit everyone in, reports Jeremy Smith.
Jeremy says the Airport owners Templeton group appear to be sending mixed messages to whoever they are talking to about the airport's future. which may be closed by Christmas.
National's Otaki candidate Tim Costley organised the meeting.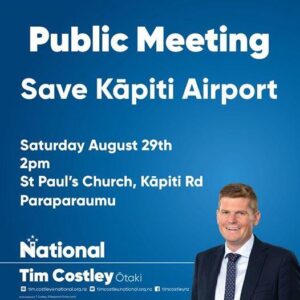 Richard Mansell, representing the owners of the Coastland shopping centre, said the Templeton group has told him the airport is unprofitable and needs more money.
But Jacinda Thorne from the Kapiti chamber of Commerce noted that everyone gets a different story from Templeton.
Kāpiti mayor K Gurunathan said the airport land is the biggest urban bloc in the district and noted its importance to the region's civil defence capacity if Wellington is closed.
The Mayor received strong applause when he said any owners would need council support for development.
Maori landowners represented
Puketapu hapu representative George Jenkins, representing the traditional owners of the land, said everyone had suffered since the privatisation of the Kapiti airport. He was clapped when he thanked everyone for turning out.
Tony Quayle from the Kāpiti Aero club said the club which trains pilots was economically important to Kapit and could expect further growth when Transmission Gully opens.
Vital for air ambulance
He said the Wellington air ambulance can use Kāpiti when Wellington airport is closed at night.
"The airport can not be allowed to close," he said. (Loud clapping)
Air Chathams" Adrian Ali was also clapped when he said the Kāpiti- Auckland connection has become the company's top performing route in the two years in the two years since it took over from Air New Zealand.
Safety back-up role
The Sounds Air operations manager, Jessie Wood, emphasised Kāpiti's safety backup role for his company which flies routes from Taupo in the north as far as Wanaka well as core routes over Cook Strait.
Tim Costley said if he became Otaki MP he would look at using the Public Works Act to take the land.
But one speaker looked directly at Costley when he said the present situation was the result of privatisation going back to the Bolger government of the 1990s.
Mayor Gurunathan said the council needed public support for any action it took over what was regionally important infrastructure.
The final speaker from the floor said the future of the airport was obvious.. it should be bought by the Provincial Growth fund.