Kāpiti Councillor Jackie Elliott says it's time to turn the tap off on local involvement in the Government's 'Three Waters' plan.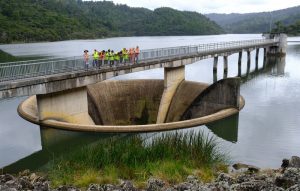 Under the proposal for three waters — drinking, waste and stormwater — the Government will take over water mangement from local bodies.
But in the Kāpiti Coast Council, districtwide Cr Jackie Elliot is the first local politician to oppose the Government's plans.

She says: "Westland's Mayor Bruce Smith has given a frank analysis on the Government 3 Waters proposal, the costs to his region and implications of lost public ratepayer owned assets.
"I thank him for being one of the few Mayors in the country to go public."

'Time for KCDC to opt out'
"I feel it it time for KCDC to opt out. (Recently) I asked the KCDC Chief Eexecutive Wayne Maxwell when the 3Waters topic would be coming to the councillor table for discussion and decision making. He could not confirm a date.

"Do any of the massive risks to national health quoted as the reason for this blanket approach to future water management apply to Kapiti?
Like Westland, the answer is NO.
Modernised in 2013
Kapiti's reticulated water system has been modernised in 2013, and infrastructure has a 30 years life expectancy –although I expect water meters will need replacing well before then.
After 30 years we will need a dam, but I would build it tomorrow if I could. Will the Govt pay for this in future? They'll neither confirm nor deny.

'The Government 'will neither confirm or deny' help with payments'
We have future $250M upgrade costs for storm water and waste water infrastructure. Will the Govt pay for this? They will neither confirm nor deny. Without this assurance there is no visible benefit to Kapiti ratepayers in the 3Waters programme.
Do councillors have a mandate from the public to give away YOUR public assets? No.
Have the Government had enough time to answer your and our questions? YES!
"Councils need timely and accurate information to many any decisions and based on the scant information we have had from the Govt thus far I say Kapiti should signal we withdraw from the 3Waters conversation now. " Says Cr Elliott.

For further information please contact Cr Jackie ElliottJackie.elliott@kapiticoast.govt.nz0210452762Get Outlook for iOS
| | |
| --- | --- |
| | ReplyForward |