Editor Alan Tristram says all his friends and acquaintances are fed up with Jacinda Ardern's failure to get homes built for the hundreds of thousands of under-privileged Kiwis desperate to get a decent roof over their heads.
"The Labour Government has wasted four years and we hold the Prime Minister personally responsible for this," he says.
Why on earth can't she appoint an emergency group of four or five achievers to get things done?
She could start by appointing Chris Hipkins as Supremo. He's got the ability and the drive.
And he's able to articulate his ideas clearly — he is a natural on tv and radio.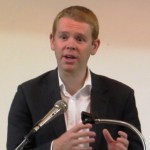 National could take the lead
If Ms Ardern doesn't act soon, National could steal this issue.
Then watch Labour's opinion poll ratings plummet, and its ranks of new MP's wake up to the fact they aren't in a job for life.
Meanwhile, National's leader, Judith Collins, started today by proposijng a $50,000 incentive to Councils for every new home built.
Collins says there's an 'unfolding emetrgency' and she's put forward an emergency Bill, similar to the one used for Christchurch after the earthquakes.
This would allow developers to bypass planning rules and get new homes built.
Jacinda Ardern now needs to wake up to the unfolding threat to Labout and ask herself every morning:
"What are we doing today about this existential threat to NZ's future — to a generation of New Zealsnders who need decent, affordable homes?"
The answer so far has been: "Very little."
( to be continued )