When the Expressway was opened Kāpiti horse riders saw the signage and were elated.
They could ride from the Pony Club in Raumati South to Paraparaumu along a multi-use path for horses, cyclist and walkers…once upon a time.
Horse riders banned from bridge
But their elation has turned to disappointment now Waka Kotahi says horse riders are forbidden to cross the Raumati Rd overbridge for 'safety reasons'.
The alternative is to come down from the Expressway path to Fincham Ave, then go along Matai Road and cross over the dangerous intersection of Matai Rd with Raumati Rd.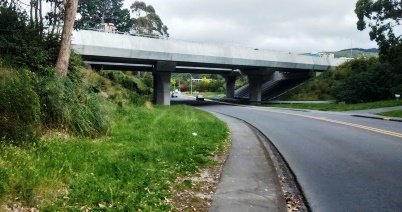 Earlier, the sign in the photo (below, right) gave horse riders hope, but the good times are over.
Riding from Raumati South to the north now involves a dangerous diversion along Matai Road.
The equestrians believe the overbridge is safe. Sight-lines are good and there is a clear view of any traffic.
The handrail on the path across the bridge could also be raised.
Chair of the Cycleway, Walkway. Bridleway Advisory Group, Bruce Henderson, and Chair of the Road Safety Advisory Group, Councillor Bernie Randall are writing letters to Waka Kotahi to try and get the problem sorted out.
Bernie Randall says the intersection of Matai Rd and Raumati Rd is particularly hazardous for horses.
He says: 'Well done to the horse riders for bringing this matter to the attention of both committees.'
We say: 'Let's hope horse sense prevails.'