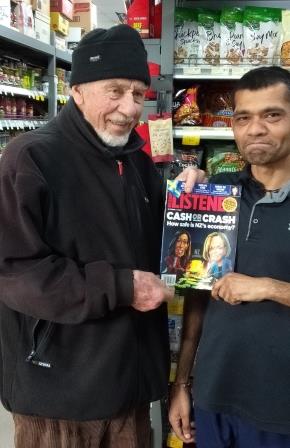 Shirish Patel (right) of the Raumati Village Four Square hands over the historic first edition of the new Listener to Editor Alan Tristram.
The small ceremony this afternoon came six months after NZ's premier current affairs weekly was abruptly closed down by its German owners.
Bauer announced early in April it was shutting its New Zealand business, including NZ Women's Weekly, Next, North & South, Metro and The Listener.
A saviour appears
Then, in July, it was announced the NZ Listener and NZ Woman's Weekly would resume publication soon, with Bauer Media's titles officially sold to an Australian investment company, Mercury Capital.
Photo: RNZ
The Sydney-based company took ownership of magazine titles Woman's Day, New Zealand Woman's Weekly, and The Australian Women's Weekly NZ, Your Home & Garden, the NZ Listener and Air New Zealand's magazine Kia Ora.
Mercury Capital then sold North and South and Metro to independent publishers, which will resume publication "as soon as possible".
The history of a famous publication
The Listener was launched in June 1939, just a couple of months before World War II began.
Its first editors, Oliver Duff and Monty Holcroft, took the brief they had to produce a radio guide and snuck in a range of cultural and current affairs content so that over the years The Listener became a cultural icon.
It used to be described as the best selling magazine in the world per capita, outside of Pravda.
So Shirish takes a place in publishing history
The Editor says he's been pestering the Patels for months to make sure he got hold of the very first copy of the new Listener.
Well, he did.
And Shirish's reaction: "Make sure you get Jacinda's picture in the photo."
Well, we did, didn't we?
Sorry about Judith, Shirish. You can't have everything in this life.