News that Mayor K Gurunathan has announced his retirement comes as no surprise, says Guy Burns.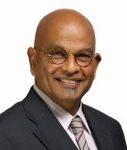 Burns, deputy chair of the Paraparaumu Raumati Community Board, says: 'The role of Mayor is demanding and requires a seven day a week commitment that must be murderous on anyone's private life.
'Poacher turned Gamekeeper best sums up Mayor Gurunathan's time at the helm.
Before entering local politics he was a lively local journalist, specialising in parochial politics—especially analysing, quite critically, local politicians and their questionable decisions.
'Not one to avoid a colourful story Mr Gurunathan often advised locals how to best communicate their grievances by way of protest or action that would catch the public's eye—and then he would have an exclusive story on this. '
From reporter to reported
Guy Burns points out that when Mr Gurunathan lost his job on the local paper, he quickly gravitated to the sphere which has always fascinated him—politics—being elected as a Councillor in 2010, a position he held for two terms. From 2016 he has been Kapiti's Mayor.
Burns says: 'As Mayor I would rate him above average in terms of previous mayors.
'As captain he has sailed the ship steady and straight ahead avoiding major storms and conducting the role of executive effectively and efficiently.
Worked as a team
'He has built a cohesive (especially from a public perceptive) team of Councillors who have avoided infighting and bickering, and overall worked well as a team.
'His relaxed style of chairing meetings, sprinkled with well-timed uses of humour has been conducive to councillor dynamics.
'A master of public relations, he has used the media expertly as a tool for his own self-endorsement and self-promotion.
Blot on landscape
'A blot on Mayor Gurunathan's legacy has been his handling of the Gateway to Kapiti Island saga.
'From its inception, this project has been unpopular with locals who see little benefit for any ratepayer investment. Even with a massive cost blowout of $3.2 million and more, the Mayor has continued to promote this ill thought out scheme.
'When his ideas have been criticised Mr Gurunathan has had a tendency to attack the messenger, rather than the arguments raised.
'This may be a tactical move but it is not helpful for useful debate and analysis, perhaps reflecting his previous life as a journalist seeking a sensational story.
'Poacher, then gamekeeper, I wish Guru well in his next role.'
Guy Burns