Kāpiti writer Frances Cherry who died last month at 84 was associated with Paekakariki for
many years.
She lived there when she was first married and years later came back to the settlement.
For twenty years she ran courses funded by Adult Community Education at a number of schools including Kāpiti College and Mana College.
Frances Cherry published three novels with lesbian themes. She was also a short story writer, often featuring stories for young adults.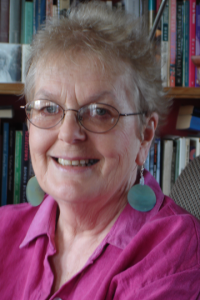 Maureen Birchfield's Tribute
Maureen Birchfield of Paekakariki gave KIN a copy of her tribute to her big sister:
'Frances was my bossy older sister. She called the shots because she was one year,
eleven months, three days older than me. Sometimes she got both of us into trouble,
such as the time we used pillows to create body shapes in our beds so that, when
Mum came to check on us after returning from a meeting, she'd think we were fast
asleep.
Instead, we'd climbed out our bedroom window and gone to the pictures at the
Kinema in Kilbirnie.
Unfortunately, we were found out because visitors were coming the next day and
Mum had asked us to make jellies for them. When she returned home, she couldn't
find the jellies but discovered the pillows masquerading as us. I can't remember what
our punishment was – probably we weren't allowed to go to the pictures the following
week.
When Frances married local Paekakariki tycoon, Tasmanian Bob Cherry, who ran
the local BP Petrol Station on the then Main Road, I was their bridesmaid.
Barry Williams, Maureen, Frances and Bob
When I married Barry Williams in 1967, our wedding reception was held at Frances
and Bob's large house and garden on the hill above Paekakariki School.
Gay friend Neil Grange produced a fabulous wedding feast for us – with a pig's
head holding an apple in its mouth as the central feature of the table.
Frances and my relationship had its ups and downs, which got more up than down
as we got older.
I mourn her loss, but treasure many happy memories of my one and
only sister.'
—
Alan and Helen Tristram's tribute
We remember Frances with great affection. She was good to us — and we still owe her a dinner.
When we ran Green House Books at Paraparaumu Beach she was a great supporter ( as were Maureen Birchfield and Barry Williams).
She was generous, intelligent, witty and literary — a true daughter of Paekakariki.
We will always remember her.
She is now part of the fabric of our Coast's history.