e.e.cummings (his spelling) decided to become a poet when he was still a child, writes Gill Ward.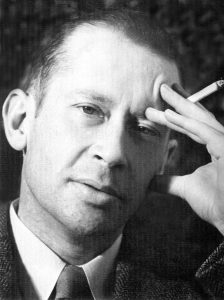 Between the ages of eight and twenty-two, he wrote a poem a day, exploring many traditional poetic forms.
By the time he was in Harvard in 1916, modern poetry had caught his interest.
And then, he joibned the avante garde.
He began to write avant-garde poems in which conventional punctuation and syntax were ignored in favour of a dynamic use of language. Cummings also experimented with poems as visual objects on the page.
In April of 1917, with the First World War raging in Europe and Cummings was also ranked among the best love poets of his time.
"Love always was … Cummings' chief subject of interest," Friedman wrote in his E. E. Cummings: The Art of His Poetry. "The traditional lyric situation, representing the lover speaking of love to his lady, has been given in our time a special flavour and emphasis by Cummings"…
little tree (by e.e. cummimgs)
'little tree
little silent Christmas tree
you are so little
you are more like a flower
who found you in the green forest
and were you very sorry to come away?
see i will comfort you
because you smell so sweetly
i will kiss your cool bark
and hug you safe and tight
just as your mother would,
only don't be afraid
look the spangles
that sleep all the year in a dark box
dreaming of being taken out and allowed to shine,
the balls the chains red and gold the fluffy threads,
put up your little arms
and i'll give them all to you to hold
every finger shall have its ring
and there won't be a single place dark or unhappy
then when you're quite dressed
you'll stand in the window for everyone to see
and how they'll stare!
oh but you'll be very proud
and my little sister and i will take hands
and looking up at our beautiful tree
we'll dance and sing
"Noel Noel" '