LEAVE THE WORLD BEHIND by Rumaan Alam is apocalyptic ordinariness, writes Ralph McAllister.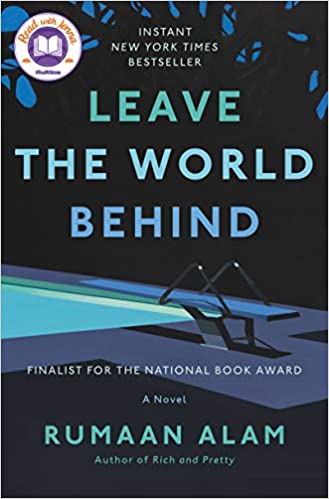 'Think ,Guess Who's Coming to Dinner, as wealthy New Yorkers rent a secluded isolated Long Island villa and ,in the middle of the night ,there is a knock on the door.
Nobody knows they are there.
Parents Amanda and Clay and adolescent children Archie and Rose open the door,a
black couple George and Ruth seek to come in.
Remember this is modern America.
Strange things are happening in the wider world.
And they get stranger.
Writer Alam weaves perspectives from the various characters, brilliantly.
The growing sense of panic and bewilderment disturb us the readers as climate change and racism become central to the story .
I loved this book ,the withholding of information reminded me ,time and again of Cormac McCarthy,one of my all time favourite authors.
Read this third novel of Alam Rumann.
I am going back to his previous two.
—————————————
Take a risk with Alan Bennett
TWO BESIDES by Alan Bennett offers us two new Talking Heads monologues in a small hardback costing $20.
Each story will take you about ten minutes to read.
You work out the maths.
One of England's greatest,but beware,you might be a bit shocked by the women.
Go on,risk it!!
———————————–
New Plymouth author's great first novel
BEFORE YOU KNEW MY NAME by Jacqueline Bublitz is the work of a New Plymouth first time novelist .
She has become a bit of a sensation for her LOVELY BONES inspired ,thriller story , told by dead girl Alice, as she lies in a New York morgue,another Jane Doe.
Ruby the young Australian who discovered the body tries to make sense of her own lonely life ,while becoming more and more obsessed with Alice, and who she was and why she died .
The juxtaposition of structure is shaky at times but, by and large ,this is a gripping shocking and highly readable account of touching bewilderment.
And ,apparently,financial success means Bublitz can get on with her next novel.
Great.
———————————–
Another absorbing WWII thriller
And ,briefly, after enjoying other Kate Quinn novels ,I dipped into an earlier ,equally absorbing wartime thriller THE HUNTRESS.
Feisty Russian female flyer falls in love on the airfield.
Nasty Nazi eliminates children ,"for their own good" and then flees to America.
And Ian and Tony hunt war criminals in fifties ' Boston when most just want to forget the war.
And that is just for starters.
Keep warm
Ralph