One of the best and most unusual books of the year,FEATHERHOOD by Charlie Gilmour is a true love story between the young author and a magpie, says Ralph McAllister.
It begins with an injured bird being saved from death.
Nursed by Charlie and his partner In their living room in London, Benzine recovers and takes over more and more of their space and their lives.
Hilarious scenes of nests in hair and on top of the fridge are juxtaposed with reluctant efforts to set Benzine free.
As the bird stays and learns, Charlie discovers more about himself.
Heathcote Williams his biological father deserted Charlie six months after his birth.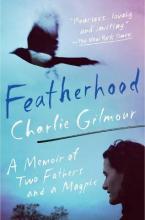 The parallel story in this short biography is a moving account of Charlie trying to understand why he was deserted.
You will find this book will stay with you.
If you don't believe me ,listen to Jesse Mulligan excellent interviewing ofGilmour a few weeks ago on his afternoon programme.
One of my favourite authors…
Complete contrast comes with one of my favourite authors,John Boyne.
THE ECHO CHAMBER is,unexpectedly ,a comedy about a disfunctional family in today's London.
Father George is a tv celebrity,a national treasure,according to George.
His wife Beverley is a famous novelist who takes ghost writing to extraordinary extremes.
The children,Nelson,Elizabeth and Achilles are appallingly selfish,shallow and unhealthily absorbed in cellphone popularity.
Cancelled will have a new meaning to your life after reading this wonderfully funny and relentlessly satirical study of the superficial ,lurking near us all.
A new Eddie Flynn thriller
Finally,THE DEVIL'S ADVOCATE has Steve Cavanagh at his best with his new Eddie Flynn thriller.
This time Eddie pits his considerable New York skills against a small town district attorney who sends all his "guilty" men to their deaths.
A chillingly ridiculous and spurious entertainment for these lockdown days.
Yet again my thanks to Kaye and her team at Paper Plus.
Keep warm
Ralph