Gill Ward greets all poetry lovers with news of a visit to Kāpiti by Harry Ricketts…
Venue: Robert Harris Cafe, Coastlands 3pm to 5pm, on Sunday, July 11.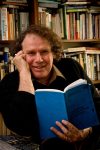 Harry Ricketts is a long-time supporter of our poetry gigs and always appreciated by his audiences, she says.
He's written and edited more than thirty books, but it is his poetry that has been the most constant, and the most personal in tone.
From his 1989 collection Coming Here – in which he wrote the first of his 'Secret Life' poems – to his 2018 collection Winter Eyes, which reviewer Tim Upperton called 'unsettling, moving, both estranging and empathetic'.
Ricketts has written of friendship, youth, romance, loss, and the small moments that carry a lifelong weight, or light, within us. His voice is recognisable for its humility, intelligence and warmth. In Selected Poems, its full range is represented for the first time.
'Selected Poems'
'Selected Poems showcases the work of one of our beloved poets. His poetry embraces humour, the necessity of books and reading, the ability of poetry to dance from melancholy to exquisite sheen, from plain speech to elegant soundings, to the whip and caress of life. This is an anthology to treassure.' —Paula Green, Kete Books
I ask that if you wish to share a poem at the open mic at this event, please come in time to get your name on the white board.
It is really a pleasure that poets do this but awful for me that I will have to close the board down so that there will be time for Harry's poems. Also not more than one page and we have a joke about that – 'not one page of point 8 font with no spacing,' A good try but as mother teacher you will be sent to the back of the classroom.
I am so excited to welcome Harry and all of you back again.
Note — I must explain this is event is not a return of Poets to the People. However it is a winter treat which I feel we all deserve.
I felt (as I said in a 'farewell email") that after 15 years I needed a rest from Poets to the People however there were a few unfinished business assignments which I wanted to complete. Before I closed down we had some poets to whom I had suggested could read their new work when it was out. Well we know the end of that story – Covid marched in and put an end and reconsideration of much of our plans and aspirations.
Affectionately
Gill Ward
All the details
Harry Ricketts will share a selection of poems from his new collection,
Selected Poems (Victoria University Press)
There was a backlog of poets who had been 'promised' and Harry has a new and wonderful book of selected poems so we thought a winter treat was in order. There will be an open mic. but strictly a one page poem (or shorter) and the white-board will be closed after a manageable number of poets' names are up.
Many thanks to Gail at Robert Harris Café for making us welcome. And Phoebe for sound system. Be there!
$5 admission, drinks and snacks available